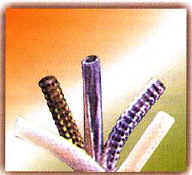 SUPER SPRAY HOSES
Super Spray Hoses are recommended for high pressure spraying of water based chemicals, insecticides, fungicides, weeding etc. in plantations, orchards, forestry parks, vineyards, maintenance of various other areas involving spraying by hand of power driven pumps.
WATER HOSE
Water Hoses are specially designed considering its sustainable suitability in irrigation, construction, civil engg. projects, delivery mines, fire fighting and dewatering during flood. These are used for water distribution. These are also recommended for gardening, steel mills, cooling towers. These are specially made to withstand all seasonal and environmental conditions.
RESISTANT TO
Crush, kinking, Oils and Chemicals, Moisture.