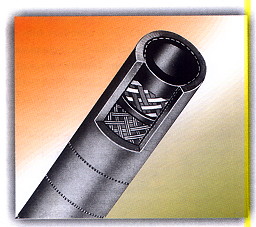 Item Code : 635/1982
APPLICATION
Used for conveying lubricating oils,Transformer oils, vegetable oils (non-edible),solvents having
low aromatic content, Petrol,High speed diesel oil and other petroleumproducts.
CONSTRUCTION
Lining :

Seamless tube of suitable synthetic rubber compound resistant to oil and low

aromatic solvent.

Reinforcement :

Reinforcement plies of rubberised Woven fabric or braided textile

reinforcement of natural or synthetic fibre or a combination thereof.

Cover :

Cloth-marked plain or fluted coverof suitable synthetic rubber compound

resistant to oils and solvents having low aromatic content.

Temperature :
-15oF to +149oF

Length :

Mandral built hoses upto 18.5 meters, moulded hoses in long continuous

length.